To enter school on a student visa 《General Japanese Course/Advanced Schooling Course》
※Please refer to each page for procedures to enter school for other courses.
Visas for those who stay in Japan for the purpose of learning Japanese are called "College Student Visas". The length of time that you are allowed to stay is 2 years, excluding the preparation time to return back home. Prepare your application and getting your visa take some time, so please plan ahead. The procedures for entering school can also be done overseas.
Procedures for Entrance

For those persons who wish to join this school, please inquire first.
Download Application


Please submit application documents and pay the application fee of 30,000 yen before the deadline.


Presented documents will be examined, then a decision will be made regarding the permission to enter the school.

YMCA applies to Immigrateion for the Certificate of Eligibility. It takes about 2 months for the Immigration Bureau to inspect the documents.


After the Immigration Bureau makes a decision, you will be notified of the result.


After tuition is paid, an 「Entrance permit」 and 「Certificate of eligibility will be issued.






Yearly Schedule
*Placement tests and orientation will be hold about 1 week before the entrance ceremony.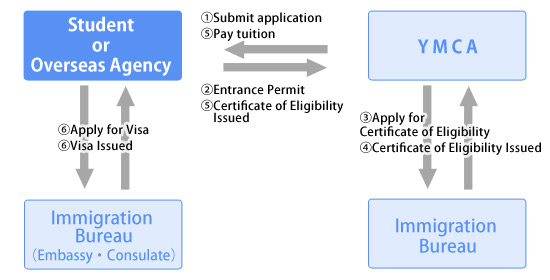 Fees
Application Fee
Entrance Fee
1st Year
2nd Year
Total
Tuition
Facilities / Materials Fee
Tuition
Facilities / Materials Fee
Starting in April
30,000 yen
80,000 yen
660,000 yen
88,000 yen
660,000 yen
88,000 yen
1,606,000 yen
Starting in October
30,000 yen
80,000 yen
660,000 yen
88,000 yen
330,000 yen
44,000 yen
1,232,000 yen
Payment Total
30,000 yen
(1) 828,000 yen
(2) Starting in April 748,000 yen
(2) Starting in October 374,000 yen
Payment Period
When you apply
After receipt of Certificate of Eligibility
Before 2nd year starts
PAYMENT METHOD
You may pay in cash at the reception desk, or you can wire transfer money to YMCA's bank account.   
※If you wire transfer money, please use the applicant's name as the sender.   
※You are responsible for all wire transfer fees.
Tenjin School:General Japanese Course
銀行名
Bank Name
 西日本シティ銀行 荒江支店
 The Nishi-Nippon City Bank, LTD.  Arae Branch
銀行住所
Bank Address
 福岡市早良区荒江2-11-3
 2-11-3 Arae, Sawara-ku, Fukuoka-city, Fukuoka, Japan
口座番号
Account No.
 普通口座 1583788
 Ordinary Deposit  1583788
口座名義
Account Name
 公益財団法人福岡YMCA 理事長 齊藤皓彦 (コウエキザイダンホウジンフクオカワイエムシーエー リジチョウサイトウアキヒコ)
 Fukuoka YMCA,  Akihiko Saito
Swift Code
 NISIJPJT
Nanakuma School:Advanced Schooling Japanese Course
銀行名
Bank Name
 西日本シティ 荒江支店
 The Nishi-Nippon City Bank, Ltd. Arae Branch
銀行住所
Bank Address
 福岡市早良区荒江2-11-3
 2-11-3 Arae, Sawara-ku, Fukuoka-city, Fukuoka, Japan
口座番号
Account No.
 普通口座 786235
 Ordinary Deposit 786235
口座名義
Account Name
 学校法人福岡YMCA学園 理事長 齊藤皓彦
 Fukuoka YMCA Gakuen,  Akihiko Saito
Swift Code
 NISIJPJT