Secondary Education Preparatory Japanese Course
This course is designed for those students who wish to study Japanese in order to go to a Japanese university or technical college.
There is a 2 year course (Starting in April) and 1.5 year course (Starting in October).
Maximum support is given through Japanese education and technical subjects for the dream of Advanced Schooling.
Lesson
Curriculum
Course Subject
Class Contents
Japanese
Japanese
Use a main textbook to improve your Japanese listening, writing, reading, and speaking skills.
Required
Test Preparation For Each Test
In the Intermediate・Advanced classes, there is test preparation for the Examination for Japanese University Admission for International Students and Japanese Language Proficiency Tests.
Required
Test Preparation
The Examination for Japanese University Admission for International Students (EJU)Test Preparation
Test preparation for Japanese subjects using a test booklet and previous years test booklets.
You can take the necessary mathematics (course I・courseⅡ) and sciences (physics, chemistry, biology).
Elective
Modern Society
Japanese politicians・Economics・Geography・Study historical topics Japanese.
Elective
Graduate School
(Advanced Schooling Guidance)
Master the necessary skills to enter graduate school. Prepare a training plan and provide support for preparation for the graduate school test.
Elective
Other
Classes on business Japanese, read newspapers, kanji reinforcement, etc. that correspond to students needs.
Elective
Level
Level
(JLPT Level)
Study Goal
Beginner(N4)
Approximately 120 sentence patterns
For the first 6 months, the class will focus on learning hiragana, katakana and writing kanji (Chinese characters) at a quick pace while learning simple sentence patterns so that you can understand and use them well. Get used to using Japanese for daily life situations, adapt to life in Japan, use the 4 basic skills (reading, listening, conversation, writing). The second semester will focus on learning sentence patterns and getting a good command of the vocabulary so that you can have a smooth conversation in Japanese for everyday life in Japan.
Approximately 1500 words
Approximately 500 kanji
Pre-Intermediate (N3)
Grammar reinforcement
The intermediate level differs from the beginner level in that there is no longer reliance on translation. You are to think and comprehend in Japanese. Use your own opinions, accurately state your thoughts to others, and correctly comprehend others thoughts and opinions using the 4 skills. Also, you will learn the grammar, vocabulary, etc. that is needed for the Japanese university entrance exam and the Japanese Language Proficiency Test Level 2.
Approximately 3000 words
Approximately 1000 kanji
AdvancedⅠ
(N2)
Grammar reinforcement
While deepening your knowledge of Japanese and world social problems, be able to constructively express and write your opinions. Also learn the communicational ability to develop logical theories by exchanging opinions. In addition, be provided with thorough guidance for the Japanese University Admission for International Students and the Japanese Language Proficiency Test Level 1.
Approximately 6000 words
Approximately 1500 kanji
AdvancedⅡ
(N1→Master level)
Grammar reinforcement
By taking the university/graduate school classes, practice, and training, be able to communicate on an equal level with Japanese students on special subjects and topics using the 4 basic skills. Especially learning communicative skills through presentations and debates that are required by universities and graduate schools.
Approximately 8000 words
Approximately 2000 kanji
Learning Period and Step up chart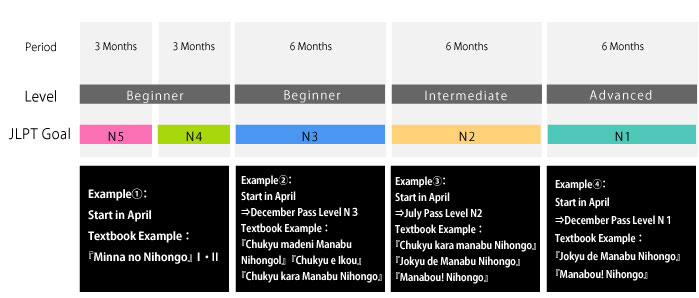 Class Time
Monday~Friday 9:30~13:15 (50 minute class x 4 class periods)
 *There are elective class(mathematics/others) about EJU in afternoon also.
Time Table Example
AdvancedⅠ・Ⅱ Class
Monday
Tuesday
Wednesday
Thursday
Friday
9:30~10:20
Japanese


(JLPT Preparation)

Japanese
(EJU Preparation
/Advanced Schooling Guidance)
Japanese
Elective Class
(Mathematics
/Other)
Japanese
(EJU Preparation
/Advanced Schooling Guidance)

10:25~11:15

Japanese


(JLPT Preparation)

Japanese
(EJU Preparation
/Advanced Schooling Guidance)
Japanese
Elective Class
(Mathematics
/Other)
Japanese
(EJU Preparation
/Advanced Schooling Guidance)
11:30~12:20
Japanese
Japanese
(EJU Preparation
/Advanced Schooling Guidance)
Japanese
Japanese
(EJU Preparation
/Advanced Schooling Guidance)
Japanese
(EJU Preparation
/Advanced Schooling Guidance)
12:25~13:15
Japanese
Japanese
Japanese


(JLPT Preparation)

Japanese
(EJU Preparation
/Advanced Schooling Guidance)
Japanese


(JLPT Preparation)
A look at the schools accepting YMCA students (Not in any order)
University・Junior College

亜細亜大学
愛媛大学
大阪産業大学
活水女子大学
北九州市立大学
九州産業大学
九州情報大学
九州大学
慶応義塾大学
駒沢女子大学
佐賀大学
下関市立大学
西南学院大学
西武文理大学
拓殖大学
中央大学
帝京大学
東京国際大学
東京農業大学
トヨタ東京自動車大学校
中村学園大学
名古屋経済大学
日本経済大学
日本経済大学東京キャンパス
日本大学
日本文理大学
福岡工業大学
福岡工業大学短期大学部
福岡大学
文京学院大学
星城大学
松山大学
武蔵野大学
名城大学
山口県立大学
山口短期大学
山口福祉文化大学
四日市大学
久留米大学
九州産業大学
九州情報大学
佐賀大学
長崎大学
福岡経済大学
福岡大学
北九州市立大学

Graduate School

中村学園大学大学院
桃山学院大学大学院
立命館大学大学院
佐賀大学大学院

Technical School

明日香美容専門大学
麻生外語専門大学
麻生ビューティー大学
大阪YMCA国際専門大学
外語ビジネス専門大学
久留米ゼミナール
コンピューター教育学院
専門学校中央工大学
専門学校デジタルアーツ東京
辻調理師専門大学
東京国際ビジネス大学
東京法科学院専門大学
東京マルチメディア専門大学
中村調理製菓専門大学
名古屋医専
名古屋福祉保育柔整専門大学
ビューティアート専門大学
福岡国際コミュニケーション専門大学
専門学校福岡ビジョナリーアーツ
専門学校麻生外語観光カレッジ